Building GIS Databases for E&P Data
Lynx is a specialist in developing solutions for the spatial management of data types in the oil industry. We combine our expertise in the ESRI ArcGIS suite (including ArcSDE) with our knowledge and experience in corporate database suites such as Oracle and Microsoft SQL Server.
We work with clients to analyse corporate data systems and design and implement new spatially enabled databases – which can serve up to the users, in rapid time, the critical data they require for exploration projects.
This work would also include identifying and spatially enabling large quantities of digital data already in the corporate data base, but effectively "lost" to the geoscientist user. For this task Lynx uses its own tool-kit specifically designed for this purpose (see below).
New database schemas can also include integration with Document Management Systems.
Examples of these types of project are limited by confidentiality but some examples are:
The UK Onshore Geophysical Library, where Lynx developed a web portal for serving seismic data in real time to the user community. Although this is an internet solutions, intranet solutions for serving corporate data to in-house users have also been developed by Lynx and are similar in concept and design.
In a new exploration asset – Rapid integration of archive data received from Ministry / state oil company, indexing. Integration of different data-sets. A new GIS-enabled front end was developed
In a new production asset – Conversion of input day-by-day production data into Oracle database with web-enabled user-friendly front end
In the head office E&P data archive - Optimisation / indexing / cataloguing of data-stores for on-going use / tradeability / later retrieval
Development of Inter-office intranet data serving
---
Lynx Data Cataloguing and Database Management
Lynx offers a customisable solution for creating, maintaining and updating spatially-enabled exploration and production data archives and databases, using our LEACAT Data Cataloguing and Archiving software suite, along with ArcGIS Desktop and/or ArcGIS Server.
LEACAT features include:
Plug-in components for format recognition defined via COM-object, DLL or script
Customised database schema
Customisable attribute definition for automatic database population
File-system search for data matching catalogue definition for bulk-addition of data to database
Single-screen catalogue editor for simple addition/update of catalogue records
Uses Oracle database for integration with ESRI ArcGIS and Finder
Dbase format is also supported for standalone catalogues
Define new Exploration Objects
Enable recognition of new file formats for exploration objects (eg an in-house seismic format or legacy word-processing format)
Add/edit attribute definitions for exploration objects
Used for schema design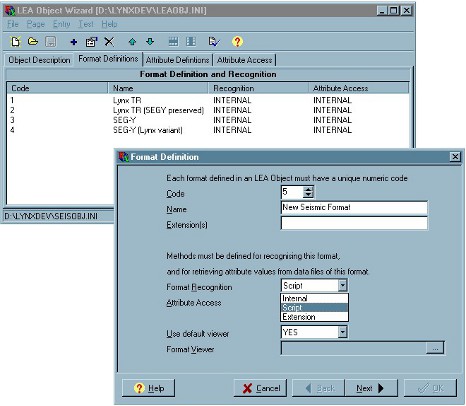 Create catalogue definitions to match existing database, or as new tables using predefined Templates
Set/change default values for fields, lookup values and range-checks
Used to design and modify database schema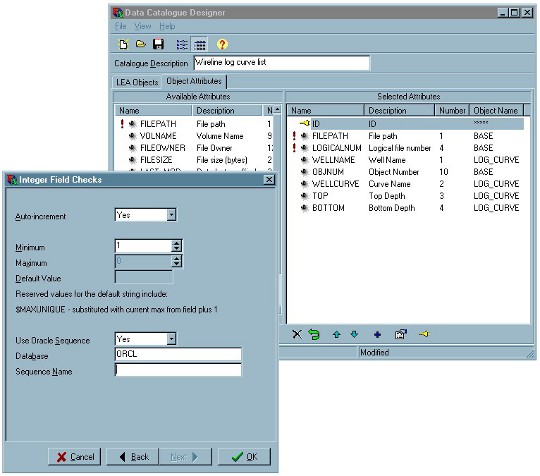 Create database tables for a new archive, or link existing database tables to catalogue definitions
Automated population of database tables by filesystem search
Used for initial population of database, and to transfer existing catalogues (eg spreadsheet lists) into new database schema
Catalogue Editor
Simple single-form catalogue editor
Main end-user interface for adding files and records to the database
Drag files from Explorer to add to catalogue
Attributes automatically read from file if present, and used to populate fields.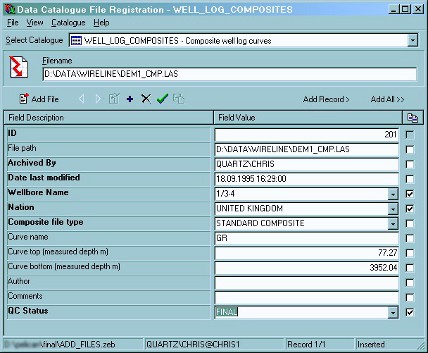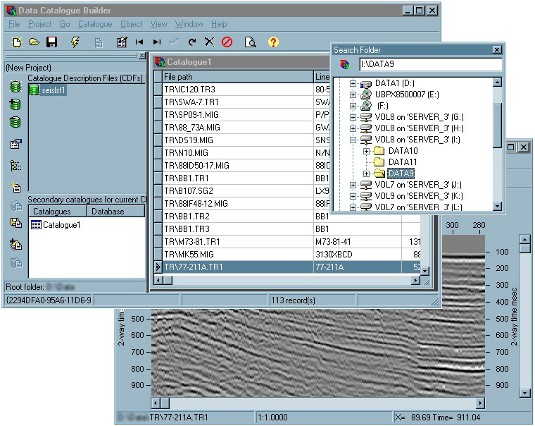 Database Front-End
End users can query the database using a front-end in ESRI ArcMap or a custom web-based front-end built using ArcGIS Server. The map has live links into data catalogues for dynamic retrieval of Exploration Data based on geographic querying.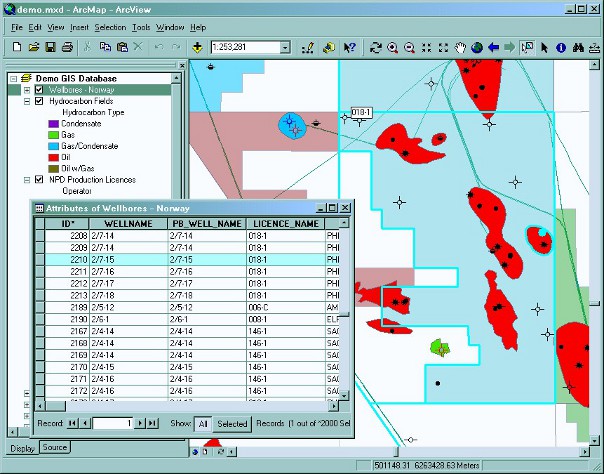 Contact us to find out more about how we can help with your GIS requirements.