South East Asia - Lynx GIS Adviser
The SE Asia Exploration Adviser GIS integrates decades of valuable E&P and G&G data together in one organized package by utilizing ESRI ArcGIS software and Lynx's custom ArcGIS extensions, wireline log viewer and seismic viewer. This product consists of a wide variety of exploration and production related maps (over 200 georectified maps) and reports (thousands of pages of bookmarked PDF reports), well/field databases, well-logs and seismic sections, all managed from within ESRI's ArcGIS application.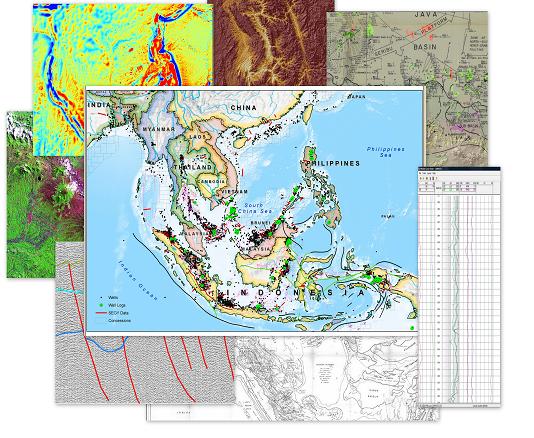 Countries covered include all or parts of: Bangladesh, Bhutan, Brunei, Cambodia, China, Christmas Islands, India, Indonesia, Japan, Laos, Malaysia, Myanmar, Nepal, Palau, Philippines, Singapore, Thailand, Timor Leste, and Vietnam.
ArcGIS deliverable dataset complete with cultural, topographic & concessionary framework
Over 11,000 well locations (exploration & field wells)
99 LAS format wireline well logs available
85 sections of seismic data in SEG-Y format accompanied by an interpreted PDF profile of each section
SRTM and Landsat7 satellite imagery
Field locations and field structure maps
Regional geology & tectonics maps
Regional gravity and magnetics
Isopach and regional facies variation maps
Regional pressure & salinity contour maps
Please ask us for more details.
Note: Indonesian raw seismic data and raw log data are not available from Lynx as part of this Adviser. Please apply to the official release agent.
See also - South East Asia Longshot Collection - a GIS Library of geological images, in cooperation with Ian Longley (PDF flyer)