EZLOG Well Log QC, Manipulation and Digitising
The EZLOG system provides a fast and efficient method of accurately converting paper log data to digital API format which can then be used for further processing. The Windows-based software supports mass storage devices for archiving and offers outputs to paper, film or machine readable media with formats such as LIS, ASCII, LOGM and TERRALOG. It incorporates full auto-tracking of single or multiple log curves in monochrome, 8-bit colour or true colour.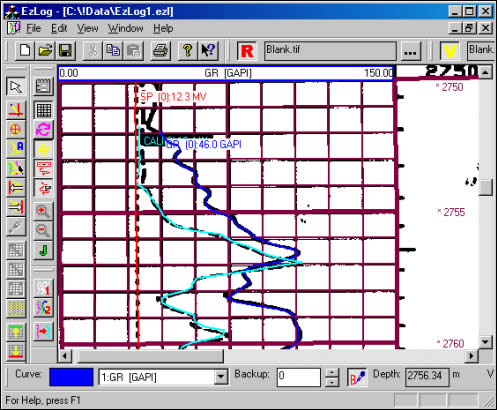 EZLOG also acts as a well log data manipulation tool with the following features:
Display
Display of raster well log image
Display of vector well log data
Display of well log grid
Simultaneous overlay of the above three (virtual light-table)
Editing
Manual curve sketching
Point-to-point curve sketching
Curve Transform
Erase curve
Set constant value
Value shift
Pixel shift
Copy curve
Exchange curve
Change backup
Scale adjust
Depth shift, stretch, squeeze
Auto-tracking
Auto-tracking requires optional additional modules
Single curve auto-tracking
Multiple curve auto-tracking
Auto-tracking features can use black and white, greyscale, 8-colour, 256-colour or true colour raster information (with appropriate optional licences installed).
Header Editing
Editing of the values of log header fields
Editing of the log header labels and mnemonics
Deletion and insertion of header records
Verification of the structure and content of the log header against standards defined in a database
Automatic correction and updating of the well log header to conform with standards defined in a database
Database
EZLOG can be linked to any database accessible via Microsoft Data Access (MDAC) technology, including Microsoft SQL Server, Microsoft Access, Oracle etc, available either locally or networked. EZLOG is designed to use information in the database intelligently - providing colour feedback on matching fields for verification as well as lists of permitted data values. Database tables used by EZLOG are user-configurable and expandable and can include the following information:
Curve names (mnemonics) dimensions and types
Meader mnemonics, units and value fields
Header structure
Header mandatory or recommended record types
Printing and Plotting
WYSIWYG printing to any Windows printer (black and white or colour)
Vector-on-raster overlay printing
Synthesised check-plot
Output to Versatec plot file (with optional MS-DOS helper program)
Please contact us for information about pricing, or for more information about our Well Services.